Linking you to Matakanui...
CLICK HERE
to register for our newsletter.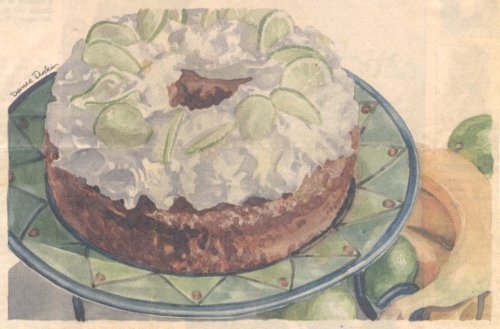 Midwinter Matakanui Cake
Wednesday, 14 July 2010
This is an old recipe for a coconut & banana cake. I usually make it at Easter but it is good to make it in winter to warm up the kitchen.
125g butter
150g sugar
50g sugar
2 eggs
2 limes
3/4 cup coconut
4 bananas, mashed
1 1/2 cups flour
1 generous tsp baking powder
1/2 tsp baking soda

In a bowl cream the butter and 150g sugar till fluffy. Beat in the eggs, one at a time, and the grated zest of the limes. Stir in the coconut and the mashed bananas, then the sifted dry ingredients.
Turn the mixture into a 23-centimetre cake pan and bake at 175 degrees celsius for 40 minutes, or till the cake tests done.
Meanwhile, place the 50g sugar in a small saucepan with 1/2 cup water and bring to the boil. Simmer a couple of minutes, then draw off the heat and add the juice of the limes.
When the cake is removed from the oven, prick it in several places with a skewer and pour over the syrup. Leave to cool in the pan before turning out.
Optionally you could dress the cake with a lime icing, using icing sugar, butter and lime juice.
Cheers, Marie